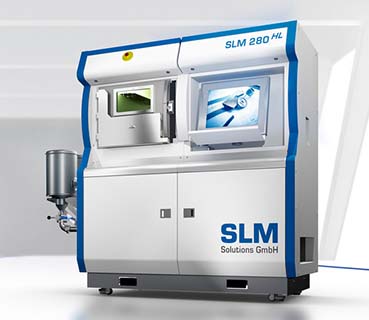 Product description
The latest-generation and state-of-the-art technology SLM laser melting system. As base material, the printer uses fine-grained metal powder with 99.9 % density to produce homogeneous metal objects. The geometry for the component is constructed layer by layer by using cross profile data derived from the 3D model.
SLM 280 HL Twin metal printer with two 400w lasers
The SLM 280HL printer is equipped with multi-laser technology and closed-cycle powder circulation to ensure printing speed and quality.
Printing volume:
280 × 280 × 365 mm3
Primary materials:
Stainless steel 316L
Aluminium alloy AlSi10Mg
Tool steel 1.2709, Maraging
The printed materials are extremely dense and highly weldable. Their machinability is also good. Thermal treatment can be used to affect the material qualities and adjust them to suit the target of application.
Download the tool steel thermal treatment specs here.
Other possible materials include, among others:
Titanium alloys
Inconel alloys
Cobalt-Chrome