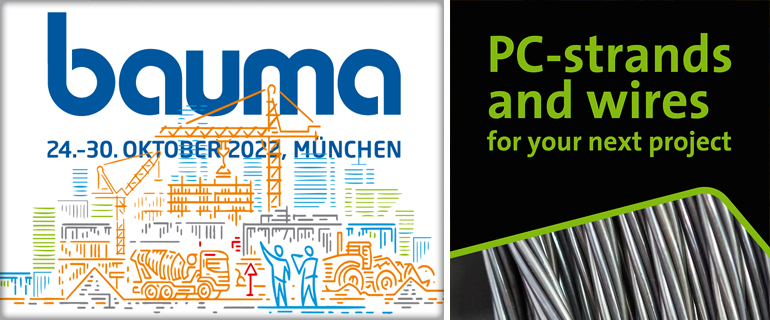 Meet us at BAUMA in Munich
Anordica will exhibit for the first time at BAUMA. This is Europe's largest and most important trade fair for machinery, plant equipment and materials for construction industry. The trade fair is held from the 24th to 30th of October 2022 in Munich.
Our team will be waiting for you in Hall B1, booth 306/8.
Anordica's partnership with the world's most efficient producers can bring you the advantage of sourcing high-quality PC Strands with excellent service and competitive prices. Keeping stock in Poland, Finland, and the Netherlands we can guarantee flexibility and just-in-time delivery.
Concrete reinforcement
PC-strands: We have homologation valid in the majority of EU countries.
SmartRock™: a durable, smart, mobile-based wireless sensor for monitoring the temperature and strength of concrete from fresh to hardened stage.
Steel wire fibres: For concrete reinforcement where high energy absorption and toughness is required.
Reinforcing bars and mesh.
Steel wire for different applications.

To schedule a personal meeting at a time that is convenient for you, please contact Mr. Alexander Zolotarevski in advance at +46 (0) 704 93 10 43 or send an e-mail to alexander@anordica.se
Our booth will be staffed by:
Alex Zolotarevski, PhD CEO;
Susanna Ljungcrantz, Sales Director;
Piotr Walczak, PC Strand expert;
Artur Kucharski, expert in wire products
We are looking forward to seeing you there!